TRUCK ACCIDENTS ATTORNEYS IN TOLEDO, OHIO
Committed to Our Clients' Futures Since 1982
When a car is involved in an accident with a big rig, there's a good chance it is going to lead to traumatic injuries and significant damage. Due to the size and weight disparity, death remains a real possibility as well, especially on the freeways that Toledo residents must travel each and every day. Aside from dealing with the personal toll of the victims, one of the main tasks that a truck accident attorney must deal with is trying to determine who all the parties are that are responsible for damages, injuries, and any deaths.
To the untrained eye, it is easy to point the finger at the truck driver, but an attorney will dig deeper, looking at equipment failure, the company's overall safety record, and other factors that could have played a role in the accident. Rubin & Zyndorf know the uphill battle of fighting against a national trucking company. Not only can you sue the trucking company, but you might also be able to go after the driver as well. Litigating a truck accident injury claim isn't easy, but our Toledo truck accident attorneys can help.
Contact us online or by phone to reach a compassionate attorney. We're available to learn more about your accident and determine liability and next steps.
Determining Liability
The first thing a Toledo truck accident attorney will look at is the relationship between the driver and his company. If a company assigned a rig to a driver, knowing it was less than 100 percent safe, then the company may bear a large share of the liability in an accident. Closely related to this, sometimes a manufacturer may also be held liable if they have created and sold an inferior product used in a truck that led to the accident. This is less common, but certainly within the realm of possibilities that an attorney will look at.
Aside from the driver and his company, there may also be instances where road conditions contributed to the accident. If a road was under construction, but the signage was not adequate, or safety warnings were not placed as they should have been, then a construction company or a government agency may be held accountable as well.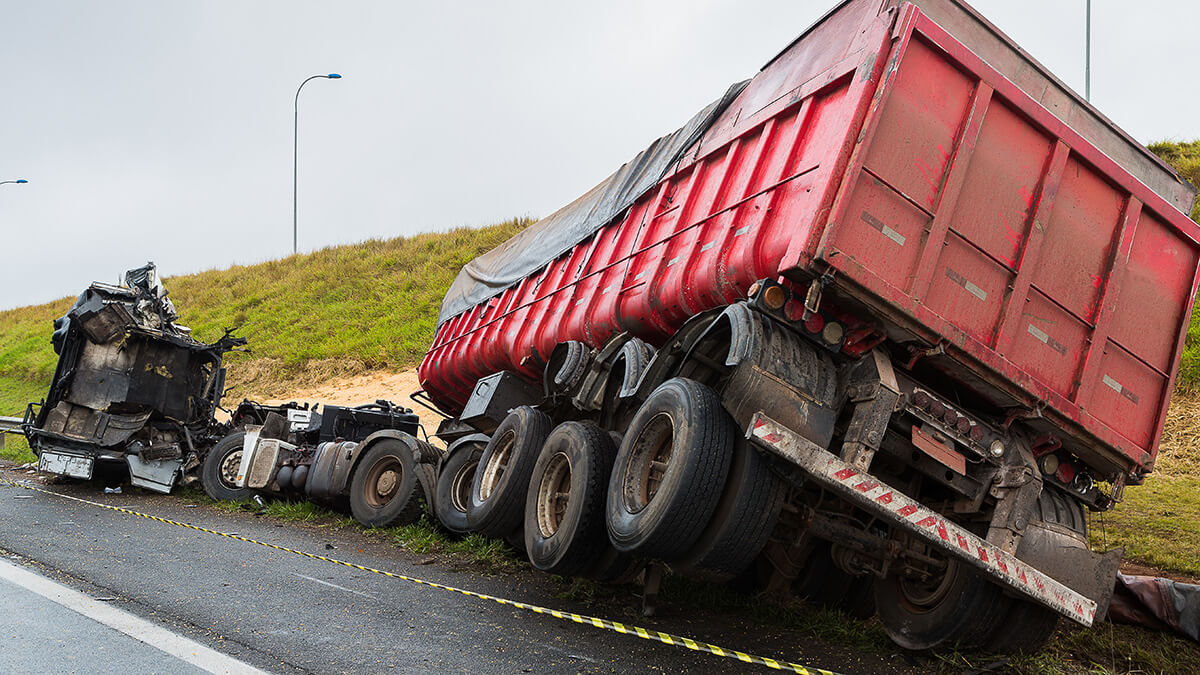 Hours of Service Regulations Rule
Because trucks have the capacity to be so dangerous to other motorists in the event of an accident, they are required to follow many rules. These rules range from how long a driver can be on the road to how the weight should be distributed in a trailer. One rule that comes up often in truck accident investigations is the hours of service rules. These rules seek to ensure that truck drivers are well rested and not overworked, since fatigued driving is a major cause of accidents on the road. Specifically, the hours of service regulation states:
Truck drivers can work up to 14 hours in a day, but they are required to take rest and meal breaks during this period making them only eligible to actually drive for 11 hours.

Drivers must rest for at least 10 consecutive hours before returning to a new workday.

Drivers must take days off work at regular intervals depending on the hours the company they drive for holds. Generally, drivers must take a break after working up to 60 or 70 hours in a 7 or 8-day period.
No matter the cause of your accident, our team of attorneys has the skill and knowledge to represent you well.
Providing Much-Needed Assistance
While you are healing, the bills keep mounting. If you're looking for a truck accident attorney in Toledo who can fight for your rights to compensation, you can turn to us. What you don't realize is that the healthcare system is broken. If you have a claim against the party that caused your injuries, your own health insurance company generally has a claim against that same party for reimbursement of the medical bills they have been called upon to pay. Not only that, your own auto insurance carrier has a similar claim. In Ohio, most people only carry limited coverage for accidental injuries. If the health insurance carrier and auto insurance carrier are allowed to stand in the same line as you to receive compensation from the other party's pocket, your interests must be maximized to ensure that your own interests are preserved.
Before you think about settling, it's important that you call our team for a professional opinion. Once you settle, your case is settled for all time. Call us if you have a claim to assert, or even if you are at the point where you are ready to settle. We work hard to secure the compensation our clients deserve over the interest of competing insurance companies.
Take advantage of our 35+ years of legal experience by calling our Toledo truck accident attorneys for a free consultation. We've recovered more than $100 million for clients and can help you, too.