MOTORCYCLE ACCIDENTS ATTORNEYS IN TOLEDO, OHIO
A Toledo Motorcycle Accident Attorney might be your best riding partner after a crash. Motorcycles, unlike cars or trucks, simply do not provide safety support during a collision. When an automobile or 18-Wheeler accident happens, the vehicle frames absorb a significant amount of the impact. A motorcycle cannot do this, and therefore the impact is absorbed by the rider, and worse, their body.
Okay, yes we know that you already know this. As a rider, you take that risk. You know very well that it's not "if you will do down" BUT when you will go down. It's not necessary for us to explain why motorcycle crashes can cause such severe injuries. However, it is important for us to explain WHY you probably need a Toledo motorcycle accident lawyer to manage your motorcycle accident injury claim.
Don't Face the Aftermath of a Motorcycle Accident Alone
Whether you are a weekend warrior or a daily hard-core biker, as a rider you know the risks. An injury sustained while riding can cause a lot more harm than bumps and bruises. Broken bones, compound fractures, ruptured discs, spinal and neck injuries, and traumatic brain trauma are all too common with bike crashes. Unfortunately, so are fatal motorcycle accident claims. A lot of bike wrecks end up with wrongful death claims attached to them. Again, there is a reason why we urge clients to seek the help of a skilled injury lawyer after a motorcycle crash.
In an auto or truck accident, while insurance companies still try and fight a claim, it's usually pretty cut and dry as to who is at fault. Determining fault, and proving negligence, is what assists with getting your claim settled and the maximum compensation paid out. However, with bike crashes, insurance lawyers have tons of ammunition to paint the rider as the person at fault. Even when the rider is truly the victim, they can lose their claim case.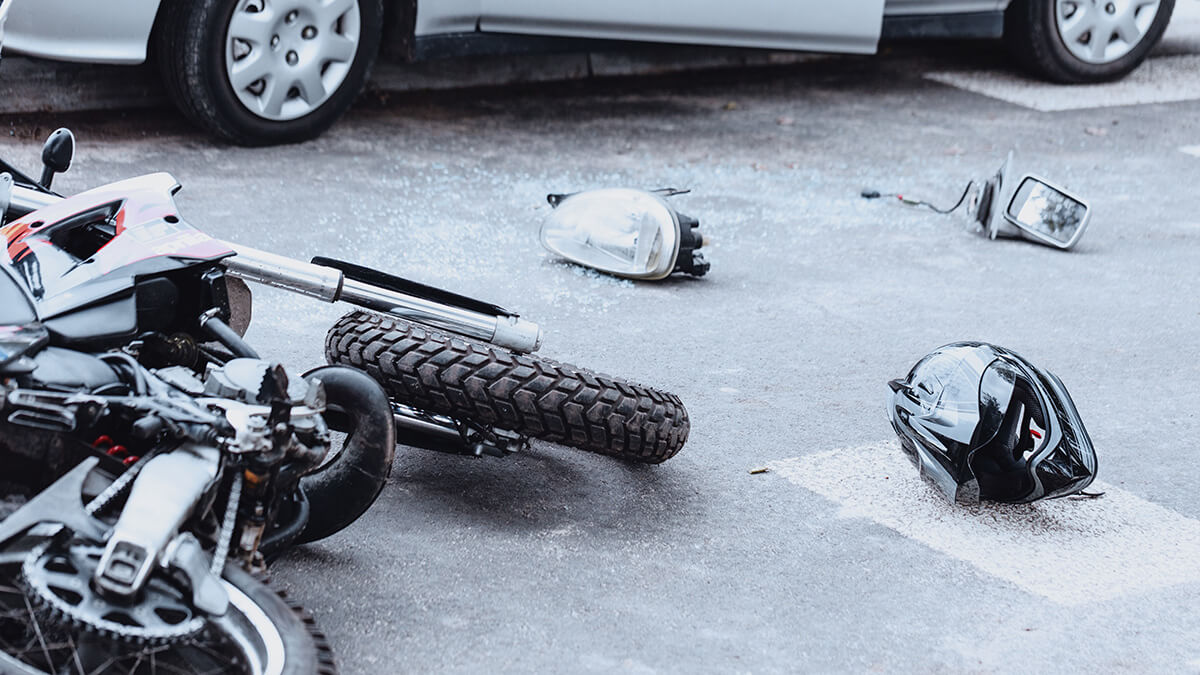 Why Hire a Motorcycle Accident Law Firm in Toledo?
Well, you might be wondering what a motorcycle accident lawyer can do for you. If you've spent time reading through our website, especially our areas covering motorcycle accident-related information, you've most likely noticed the term "party at fault" and what it means in an injury case. See, when you ride, even though you follow the rules of the road, there are still things insurance attorneys will use against you. From splitting lanes to high speeds, to time of the day and road conditions. All of these factors can be used to the pain you as the party at fault.
To make things even worse, when an accident is tragic, insurance firms knuckle up. A fatal motorcycle accident can carry with is what is known as a Wrongful Death Claim. Not only can these cost millions in settlement fees to payout by the insurer, but they also take time to litigate. This means more money is paid out to the lawyers who represent the insurance company.
A Toledo Motorcycle Accident Attorney knows how to fight for your financial rights. They are skilled litigators who can represent your interests after a crash. If you, or a loved one, have been injured in a Motorcycle Accident call Rubin & Zyndorf today. As always, we provide a free Toledo Motorcycle Accident Consultation.
File a Motorcycle Accident Injury Claim in Lucas County, OH
If you need to file a motorcycle accident injury claim in Lucas County, OH call Rubin & Zyndorf NOW. For over 50 years the law firm has handled complex personal injury cases. From auto accidents to fatal motorcycle crash claims, Rubin & Zyndorf have handled it all. As a Top Rated Toledo motorcycle accident law firm, they have WON over 100 million dollars for their clients.
From AVVO to Martindale Hubbell, the attorneys at Rubin & Zyndorf have won countless awards. However, when you speak to Daryl Rubin or Sol Zyndorf you won't feel like you're talking to a decorated injury lawyer. In fact, you will probably feel like you are speaking with a concerned parent. See, both lawyers are family-orientated individuals who practice personal injury because they CARE about the rights of those who have been hurt.
After a motorcycle accident, you will want to file your injury claim quickly and correctly. Call our law office today or contact us online for a free injury consultation and let us FIGHT for your financial rights. If you are too hurt to come to the office we will gladly come to you.